Thank you for listening to our Bankers' Secret Audio Book!
We're happy that you got value from it. Ready to Save $100″?
"I am so impressed with these folks, they have the best grasp of this of anybody I know, and I meet people all over the world who teach this message."
– R. Nelson Nash, Best Selling Author of "Becoming Your Own Banker."
Full-Day "Bankers' Secret Bootcamp" Helps Canadians Recapture the Principal & Interest From Financing Cars, Vacations, College Education &  Even Mortgages,
So You Can Build Wealth No Matter What
What Will You Learn?
What is the Bankers' Secret Bootcamp?
It's a full-day fun & engaging bootcamp that helps people learn how to recapture interest that would otherwise be paid to a traditional bank. That's something to think about, isn't it?

It's based on a proven yet little-known process called Infinite Banking.

It's a time-tested system for debt management and wealth creation that is not taught in schools. And, that's a surprisingly good thing for our clients.

It's smart money management training to help Canadians build wealth no matter what the individual circumstances or state of the economy. Does that make it recession proof?  You Bet!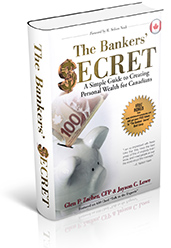 Based on the book "The Bankers' Secret" you will learn financial tips and strategies for retirement planning, recapturing the interest on big loans & becoming your own banker.
Module #1 - The Real Problem With Traditional Banking
In this first section of the course you will learn the who's really in control of your money, compounding vs average rates of return and the difference between renting and owning your own home. You'll also discover the myths of life insurance and why you don't have to die to win. And we'll dive into the banking system and how it's designed for the banks to win instead of you.
Module #2 - Getting Familiar With the Infinite Banking Concept
The completion of module #1 will inevitably help you learn why traditional banking hasn't helped you all these year.  Module #2 will give you clear and common-sense details on how to adopt an entirely new approach to financial management.  We're  not going to change your financial objectives, but rather the process that you will use to achieve them. 
You will discover impressive methods of taking control of the banking function in your life, all of these methods are destined for success.  You will learn things like: the living benefits of participating dividend paying whole life, in other words, you don't need to die before you benefit.  You will discover how your banking system will help you recapture the principle and interest you pay for vehicles, college funding, business equipment and whatever you need to finance.
Essentially, the Bankers' Secret Bootcamp will expand your knowledge about finance and you will leave with a sense of empowerment over your finances and exactly what you can do next.
You've Got To Hear Some Of These Testimonials From Attendees!
"Awesome! Great group to listen to. You Guys are entertaining, You make it fun. It's just enjoyable to sit and listen and to get involved. You have to do it … best day of my Life! Everybody I know I will tell. It is life changing!"
"It was my pleasure to come to McGuire Group to learn Infinite Banking in their boot camp. I would recommend the McGuire Group because they have a group of People that understand this and they lay it out very simple. They have really done their homework in terms of understanding Nelson's book and concepts."
"I found everyone at McGuire to be really knowledgeable. I think that they really have our benefit at heart. They're always looking out for what would work best for us. They have all the information that you need. I think it's a lot of value at for anyone at any age to learn this. If you want to take control of your own finances, you have to take the time to learn about it."
"If you can learn and implement the strategies that they touch on in here and speak with your McGuire Financial Advisor, and add it all into place and find a plan that works for you, basically you are going to be setting yourself your children and your loved ones up for the rest of their lives."
"I was 54 when I found out about it and I didn't think that I was too old or late. When People think that they're too old, they're really thinking about insurance rather than banking. The banker doesn't come to you and say "How old are you"? All he wants to know is how much money you're going to put in. The one question I would ask People is "Have you ever had too much money in the bank"? If the answer is no, I would tell them to get a policy."
"Don't hesitate, do it! Get on the course and do it as fast as you can because time is on your side. There are no drawbacks. Anybody coming here will be satisfied!"
Who Leads These Bootcamps?
Glen P. Zacher, CFP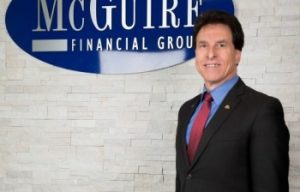 Glen P. Zacher, CFP, is the president and CEO of McGuire Financial Group. He has worked closely with individuals and business owners across Canada for over 18 years. Prior to founding McGuire Financial in 2005, he was an investment banker at one of the big six banks in Canada where he worked with high net worth clients providing financial advice and creating wealth.
At McGuire Financial, Glen's passion is working with individuals, families, and business owners to design and implement The Bankers' Secret empowering them to Become their own Banker.  He empowers his clients through education to create a lifetime of wealth. In addition to financial and retirement consulting, Glen is an author, entrepreneur, and business coach. Glen speaks on his radio show 630 Ched Talk to the Experts, Alberta's #1 talk show on Becoming Your Own Banker®. Glen also speaks at the annual Banking Secrets Super Conference, & Boot Camps. …read more
Our

Refund

Policy:   Tickets to all of our boot camps are fully refundable up until 5 days before the event. After that date they maybe transferable to another party and are valid for upcoming boot camps in Edmonton or Calgary for 90 days from time of purchase." Satisfaction is guaranteed

  Your email address is safe with us and we will never spam you and you may opt-out at anytime.