THE BANKERS' SECRET BOOTCAMP
Learn how you can beat the bank… by becoming the bank!
If you've ever wondered what's wrong with our banking system but you just couldn't put your finger on it then read this…
In Canada, we have been brainwashed to believe we NEED the bank. As sure as death and taxes, we've become complacent into believing that it's absolutely normal to give up hundreds of thousands of dollars (some in the millions) to the bank over our lifetime.  You Don't need the bank.  The Bank NEEDS YOU!
For example: Most financial advisors in places like Edmonton and Calgary (or across Canada) will want to help you build your wealth and security through traditional models of investing such as RRSP's, stocks, bonds and/or outdated models. However, this type of traditional investing is no longer fresh, current, or relevant.
If "traditional" models of investing are not necessarily working well for you, perhaps it time to discover how YOU can be the bank, grow and nurture your wealth so you can build your legacy moving forward.
Based on the best selling book and wealth building system, "The Infinite Banking Concept" by financial expert R. Nelson Nash, we've helped hundreds of people learn, implement and build wealth through smart and revolutionary banking concepts.
We at McGuire Financial are not "traditional" financial advisors. Traditional methods get traditional results. However, if you'd like to learn better wealth strategies, and stop making your bank the rich recipient of your hard work, you may be curious to learn how YOU could be the bank.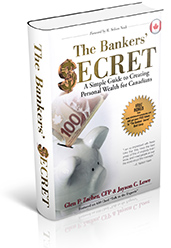 3 HUGE Key Money Management Lessons from Edmonton's leading Financial Advisors.
You hear this from the rich and wealthy. You read it in Fortune Magazine. You'll read it in autobiographies of the wealthy. You'll hear it from us too.
"You could choose to be a lemming for the bank. Or you could be the Bank! The wealthy choose the latter"  Glen P. Zacher, CFP Radio Personality & co- author of "The Bankers' Secret".
The Bankers' Secret Is A Proven Long Term Wealth Building Strategy That Enables You to Take Control of the Banking Function in Your Life
It is not a "get rich quick scheme!" Do you have what it takes to become your own banker?
Do you have a need for the use of Money?
Are you an individual or Family that are earning income and fed up with giving it all to the bank?
Are you an established business professional?
Are you a middle or high income earner: i.e: dentist, lawyer, educator, doctor, engineer, real estate investor, etc?
Are you the owner of an established small or medium sized business (1 million in revenue or more)?
If you answer YES to any of the above, you likely qualify. Let us show you a system where you can recapture the principal and interest you pay on big purchases. If we could do that would you want to discover more about it?
It's simple really.  Everybody banks.  In fact, banks count on it.
Let's take your child as an example. Let's imagine your child celebrated his/her 19th birthday this year. Your teenager's account at the TD Bank has matured into a student account. It went from a "free account" to a "fee for service account".  Your teen started actively generating revenue for the bank with his/her first job. And you can bet that your child is worth A LOT of money to the bank over his/her lifetime. If your kids stay loyal to the TD Bank over the next 34 years of their life, he/she will earn the bank a BIG FORTUNE.
How is this possible?
Your teen will deposit his/her salary, and the bank will earn thousands in fees over the next 30 years. Cha-Ching!
The bank will lend your kids money for a car, tuition and perhaps down the line, even a mortgage. The bank will earn hundreds of thousands of dollars more off of your kids through earned fees which include interest, transaction costs, statement costs, and so on. Cha-Ching!
And the bank will UPSELL your family at every turn. The bank will make sure that they earn revenue generated from non-interest income sources including fees, commissions and other sales off of Adrian, including mortgage insurance, travel insurance, e-transfer fees, and future digital services such as virtual security services.