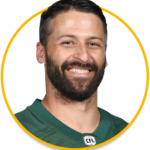 When It Comes to His Financial Future, Mike Reilly Doesn't Mess Around!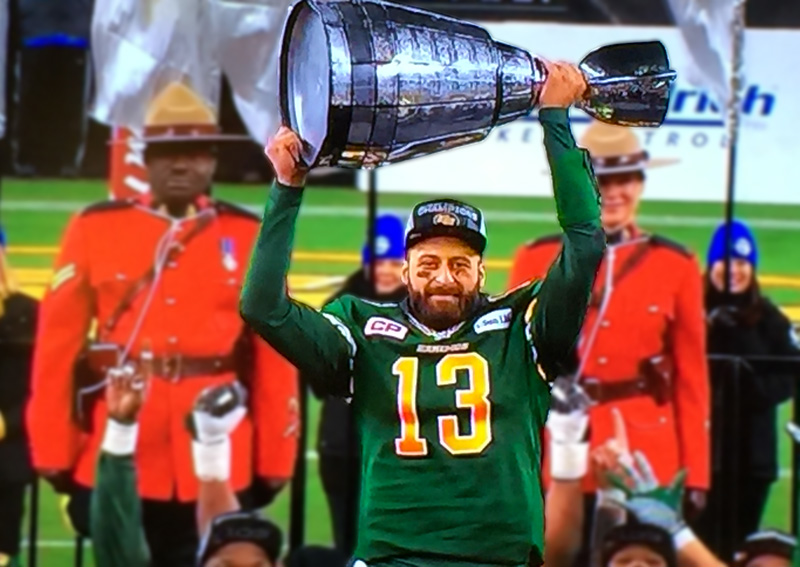 "When it comes to my financial future I know I'm covered by the pros at McGuire Financial"
Mike Reilly, Quarterback, Edmonton Eskimos
When it comes to your financial future…
Do what Mike Reilly does and book some time with the pros at McGuire Financial.  Don't let the defensive line sack your finances.  Just like Mike's pro playbook, your financial playbook needs to be written by the experts at McGuire.
Register Today to Master Your Finances!
More reasons to get a second opinion from McGuire…
Reduce Your Taxes through Innovative Income Splitting Strategies
Maximize the Effectiveness of Your Professional Corporation
Turn Personal Costs into Tax Deductible Corporate Expenses
Create a Pension Plan inside your Corporation
Create a Tax Free Retirement Pay Cheque
Have Your Corporation Pay for all of your Family Medical Expenses
Fund Your Children's Education Through Your Corporation
Utilize Trusts to Help Protect Your Wealth
The Bankers' Secret Bootcamp
Learn how you can beat the bank… by becoming the bank!
If you've ever wondered what's wrong with our banking system but you just couldn't put your finger on it then read this…
In Canada, we have been brainwashed to believe we NEED the bank. As sure as death and taxes, we've become complacent into believing that it's absolutely normal to give up hundreds of thousands of dollars (some in the millions) to the bank over our lifetime.  You Don't need the bank.  The Bank NEEDS YOU!
For example: Most financial advisors in places like Edmonton and Calgary (or across Canada) will want to help you build your wealth and security through traditional models of investing such as RRSP's, stocks, bonds and/or outdated models. However, this type of traditional investing is no longer fresh, current, or relevant.
If "traditional" models of investing are not necessarily working well for you, perhaps it time to discover how YOU can be the bank, grow and nurture your wealth so you can build your legacy moving forward.
Based on the best selling book and wealth building system, "The Infinite Banking Concept" by financial expert R. Nelson Nash, we've helped hundreds of people learn, implement and build wealth through smart and revolutionary banking concepts.
We at McGuire Financial are not "traditional" financial advisors. Traditional methods get traditional results. However, if you'd like to learn better wealth strategies, and stop making your bank the rich recipient of your hard work, you may be curious to learn how YOU could be the bank.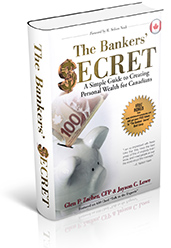 3 HUGE Key Money Management Lessons from Edmonton's leading Financial Advisors.
You hear this from the rich and wealthy. You read it in Fortune Magazine. You'll read it in autobiographies of the wealthy. You'll hear it from us too.
"You could choose to be a lemming for the bank. Or you could be the Bank! The wealthy choose the latter"  Glen P. Zacher, CFP Radio Personality & co- author of "The Bankers' Secret".
The Bankers' Secret Is A Proven Long Term Wealth Building Strategy That Enables You to Take Control of the Banking Function in Your Life
It is not a "get rich quick scheme!" Do you have what it takes to become your own banker?
Do you have a need for the use of Money?
Are you an individual or Family that are earning income and fed up with giving it all to the bank?
Are you an established business professional?
Are you a middle or high income earner: i.e: dentist, lawyer, educator, doctor, engineer, real estate investor, etc?
Are you the owner of an established small or medium sized business (1 million in revenue or more)?
If you answer YES to any of the above, you likely qualify. Let us show you a system where you can recapture the principal and interest you pay on big purchases. If we could do that would you want to discover more about it?
It's simple really.  Everybody banks.  In fact, banks count on it.
Let's take your child as an example. Let's imagine your child celebrated his/her 19th birthday this year. Your teenager's account at the TD Bank has matured into a student account. It went from a "free account" to a "fee for service account".  Your teen started actively generating revenue for the bank with his/her first job. And you can bet that your child is worth A LOT of money to the bank over his/her lifetime. If your kids stay loyal to the TD Bank over the next 34 years of their life, he/she will earn the bank a BIG FORTUNE.
How is this possible?
Your teen will deposit his/her salary, and the bank will earn thousands in fees over the next 30 years. Cha-Ching!
The bank will lend your kids money for a car, tuition and perhaps down the line, even a mortgage. The bank will earn hundreds of thousands of dollars more off of your kids through earned fees which include interest, transaction costs, statement costs, and so on. Cha-Ching!
And the bank will UPSELL your family at every turn. The bank will make sure that they earn revenue generated from non-interest income sources including fees, commissions and other sales off of Adrian, including mortgage insurance, travel insurance, e-transfer fees, and future digital services such as virtual security services.
So, what is your family worth to a bank?
If your child becomes a successful professional and earns over 150K a year by the time they reach their mid 30's, your offspring will be worth hundreds of thousands of dollars (if not millions) to the bank.
How much are YOU worth to the bank?
If we take all of your bank costs, fees, commissions, and interest to determine the average annual profit the bank earns from you and your family we can determine the customer lifetime value (CLV) for the bank. You too are probably worth hundreds of thousands of dollars to the bank!
It feels wrong doesn't it? Why should we make the bank rich?
What if we could help you BEAT THE BANK by Becoming the Bank?
Introducing The "Banker's Secret Bootcamp?"
The Banker's Secret Bootcamp is a full-day intensive money management training that helps you discover how you can be exactly like the top 10% of families in Canada who leverage their income power to

be the bank

and BEAT THE BANK!
What you will learn…
How YOU can recover all of the principle & interest you pay to finance vehicles and other large purchases.

How YOU can grow your money on a foundation of contractual guarantees!

How YOU can do this on a tax-advantaged basis.

How YOU can borrow your money and continue to grow your money at the same time!
As a Financial Advisor in Alberta, we often ask our top clients to take 60 seconds and do a quick addition.
You can do this right now. Add up all the payments you have paid on everything you have ever owned. This is all the money that has left your life and entered the bank's life as payments. Now add up all the liquid money you have in your individual retirement account. Which number is bigger? Most of the time, it is the bank's by a huge exasperating margin.
And that leads us to helping you discover the bankers' secret!
In This 1-Day Intensive You Will Also Get Step-by-Step Information On:
How to take your own capital (all at once or built up over time), make your own loans to yourself (and your loved ones), and create payments back to yourself.

How the wealthy deal with wealth. The answer is inside a correctly designed __________________ (secret sauce) that affords you many benefits. Your biggest wins will be from your ability to grow your money tax-advantaged even when you borrow the money out of your ____   _______ (secret sauce).

How to loan yourself money & pay yourself interest, free up that cash to be used again as you pay yourself back, and growing a pool of money that should always be used as your family bank.
You've got to hear some of these testimonials from attendees!
"Awesome! Great group to listen to. You guys are entertaining, you make it fun. It's just enjoyable to sit and listen and to get involved. You have to do it … best day of my life! Everybody I know I will tell. It is life changing!"
"It was my pleasure to come to the McGuire Group to learn The Bankers' Secret (Infinite Banking) in their boot camp. I would recommend the McGuire Group because they have a group of people that understand this, and they lay it out very simple. They have really done their homework in terms of understanding Nelson's book and concepts."
"I found everyone at McGuire to be really knowledgeable. I think that they really have our benefit at heart. They're always looking out for what would work best for us. They have all the information that you need. I think it's a lot of value  for anyone at any age to learn this. If you want to take control of your own finances, you have to take the time to learn about it."
Hurry now and reserve your seat in the next training.

Seating is limited. You'll network with quality people. Lunch will be provided. And you'll learn life-altering money management processes from several Financial Advisors and Money Management professionals from our McGuire Financial team.

If you are unsure if you qualify for this training, choose a time that works for you and book your 15 minute appointment with one of our Financial Advisors.

If you qualify, reserve your seat now (link to purchase). Buy one, second person is 50% off.
OUR PROMISE TO YOU
When you purchase a ticket to one of our Bankers' Secret Bootcamps, our promise to you is that we will share our best high-value business intelligence to help you earn more, retain more, and enable you to leave a larger legacy to your loved ones. This training is 100% information on "How to Become Your Own Bank". There is no selling.  If you want to work with us after this training, you will need to make a private appointment with a McGuire Financial team member to see if you qualify. Our purchase guarantee: If you are unhappy with the high level of training or quality of information shared with you during the training, we guarantee a 100% refund, no questions asked.

McGuire Financial created The Bankers' Secret (based on the USA version of the Infinite Banking Concept) in 2008.  The necessity to create a Canadian version of this concept was born.  This is a time-tested financial strategy that allows high income earners to grow their money safely and predictably, even when traditional investment strategies like mutual funds, stocks, and other investments under-perform.
What is The Bankers' Secret? As featured on 630 "Talk to the Experts" radio
It's a way for you to become your own banker. You become your own source of financing along with its tax advantages.  The Bankers' Secret gives you the ability to loan yourself money, free up that cash to be used again as you pay yourself back, and maintain a pool of money that should always be used as your family bank.
"I am amazed how engaged the audience becomes and how appreciative they are to learn about the "The Bankers' Secret". Their approach is refreshing."
– Stan Pappenfus, Western Canada Equitable Life of Canada

"I'm so impressed with these folks that they have the best grasp of this of anybody that I know, and I meet people all over the world about this message"
– R. Nelson Nash, Author of Becoming Your Own Banker and Building Your Warehouse of Wealth
The Bankers' Secret is a process that will allow you to recapture depreciation on big-ticket items like cars. This structure will allow you to borrow money quickly without having to jump through hoops for credit approval. Let's face it. Banks are good to you when times are good. But when you need the money, they are no longer friendly. This way, allows you to be in control of your outcome without having to explain to a bank employee why they should lend you money.
Imagine you having a way to recapturing all the payments you are now giving to a bank. What if we can show you a way to redirect those payments back to an insurance policy that grows tax free and guaranteed.
Why haven't you heard about this before?
Corporations, celebrities, families from "old money", and the wealthy have been doing this a long time. We've taken this concept to serve business owners, medical professionals, investors, families that come from "new money", educators, middle and high income owners in Canada. As financial advisors, we don't recommend this for everyone.  You need to qualify and be of a certain income. We can help you determine if you qualify. Simply book your 15 minute appointment with one of our Bankers' Secret professionals, and we'll help you determine if you qualify.
Tell Me EXACTLY how this works.
For those of you that are analytical and reading every word , we know you require ALL the data and proof to make sure you should invest your time with us, and that your time is well spent. What you will learn in the 1-Day Bootcamp is how to leverage a Participating Dividend- Paying Whole Life Policy.  You will need to commit one day to learn EXACTLY how to do this. Being your own banker takes more than a generous income. You'll need the right information. You'll be required to apply the information correctly. In fact, we'll need a minimum of eight hours of your valuable time to transfer the business intelligence to you.  This is why we have developed a 1-Day Bankers' Secret Bootcamp.
Too busy to learn?
Okay. We know some of you have VERY busy lives and prefer a 1 hour private meeting with one of our Executive Financial Advisors.  No worries. Call our office to get started: 780-462-1289 Edmonton main office or 403-538-6898 (Calgary) or Toll Free 1-877-364-8204. Have a look at our calendar to determine which time is best for you.
Debt? Here's Our Solution

Get a complimentary debt analysis
Here is a scenario: You have 3 credit cards.
First major credit card is maxed out.
Second credit card is getting up there.
You have a car loan to support
You have university tuition to pay off (or student loans)
You have taxes you are behind on.
You are only paying down interest now, and have no means to tackle the principal.
You are feel its getting tight and you have no breathing room.
If you keep only paying the interest, things will not get better.
You have options.
Try to negotiate new terms with each creditor. Don't ignore or avoid them.  For example, if you owe 10K on MasterCard, see if you can negotiate a 3K payment and close the card. Discuss how this will affect your credit rating.   If you can't negotiate on your own, you may need us. If you do, we can help you.
If you own a home, you can remortgage your home and bundle the debt into your mortgage.  Make a list of everything you owe. If you don't know where you are starting at, in terms of exactly what you owe, you'll end up in a bad place. Best to face your fears and know your numbers. To be the CEO of your life, you always need to know your numbers.
The bank will send someone to your home to evaluate the house and see what the maximum loan they can issue you.  They will ask for your tax returns. They want to know if you could manage the loan they are about to issue you.  The good news is, in most cases, your payment will end up being much more manageable then paying off the interest on all your high interest credit cards.
Note of caution: If you are successful in re-mortgaging your house,  the chances of you ending up in the same place (owing high debt) is very likely. It will take some self-discipline from you to change your money management blueprint. In other words, you'll have to change the way you do things if you want a different result.  If you need help with your money management or your financial planning, we can help.  With 30 years of experience as Financial Advisors, we never judge you for where you are at now. You could have suffered from a job loss, from a divorce, from illness, or a bad economy. This happens to many good people.  Our job is to move the needle on your dreams. Our goal is to help you create a new money blueprint that drives you from where you are now, to where you'd like to be.
Though it sometimes feel like a black hole of debt, all is not lost.  There is an actual strategy where we can help you pay off your debt, rebuild your credit score, and get you in a good place.
3 Easy steps for debt consolidation in Edmonton and Calgary
Push here to download a Pre-Qualifying Form.  If you have over ten thousand dollars of debt, you may qualify. Return via email.
Once we receive your Pre-Qualifying form, a Financial Debt Solutions Professional will set up a 15 minute phone Interview to better understand your circumstances.
If you qualify, we will then set up an in-person meeting at our office.  This is where our team presents our recommendations based on your specific situation. Everyone is different. Our job is to advocate for you.  If you choose McGuire Debt Solutions as your advocate, we will then set up a second meeting. This is where you bring all your bills and documentation. We complete your file and set an agenda to bring your file to a resolution.
Our job is negotiate the best repayment schedule for your debt. While any repayment program will negatively affect your credit score short term, our job is to help you learn how rebuild your credit. We start immediately. You'll be surprised to learn how fast you can be back on track.
If you have been declined for a re-mortgage by a traditional bank, we have a relationship with mortgage brokers who will go shopping with secondary lenders who are used to dealing with high risk. We also have a network of private lenders if traditional channels don't work.
If you know you are at a point of no return and debt consolidation is no longer an option, we can help you declare bankruptcy. The best advice we can give you as a financial advisor, is to stop delaying the unavoidable.  It's like ripping off a band-aid. The quicker we do this, the less pain you will feel.
The truth is, you may find this to be the win-win you need right now. Don't feel bad. Whatever situation, or circumstances that propelled you to this tight spot, it may be helped. Let's begin working towards your new outcome and what you wish to create in your life.  There is always freedom to be found in starting a new.
Whether you need debt consolidation, a new mortgage, a second mortgage, an advocate or help with declaring bankruptcy, you will need to take your FIRST STEP in putting this hardship behind you:
1st Step: Download this no-obligation application and let's start a conversation.  There is no fee for your first 15 minute appointment. There is no fee for your first interview.  It's our job to see if you qualify and if we can help with your debt consolidation.
Remember, we are here to serve you and be your advocate. Whatever situation or circumstance you have lived through, our job is to help you move the needle on this.  You'll feel 100% lighter by taking action.  We can stop the countless intrusive calls, lighten your stress, and help you sleep at night.  More importantly, we can help put you back on track in more ways than simply helping you with debt consolidation.
During the next few weeks we will be giving away some great prizes on air!
Edmonton

Listen Live! At 11:00 am on 630 ChED Talk to the Experts

Calgary

Listen Live! At 11:00 am on 770 Talk to the Experts

*programming changes happen. Show can air at 12:00 pm without notice.
Be one of the first 5 people when you hear play to win! Try to claim your prize.
Fill in your ballot to win meet the experts grand prize!
2 Tickets* To The 1-Day Intensive Training "The Bankers' Secret Bootcamp"


A training on how to create personal wealth for Canadians (a +$400 value)
* You will have a selection of dates available. Limited seating in Edmonton and Calgary.
Bonus # 1
2 "Bankers' Secret Workbooks" (value $400)
Bonus # 2
"The Bankers' Secret Book" signed by author Glen Zacher
Bonus # 3
Meet radio host and author of "The Bankers' Secret", Glen Zacher
CONTEST LINE: 780-462-1289 (locally) or
Listeners can qualify to win a prize OR win a prize every 60 days. If a listener qualifies for a major prize (i.e. – grand prize), they are not eligible for another 60 days to qualify again or win a prize. If a listener or a member of their household wins a prize, they cannot qualify to win a prize or win a prize for another 60 days. 60 days – no exceptions.
The "Listen to Win" contests – Frequently asked questions